Big momentum highlights the West Virginia beer year
The past 12 months have been an excellent West Virginia beer year. Craft beer finally picked up the steam it needed to make a big move forward. Would you believe we've passed the tipping point?
Yes, we've had other decent years with positive momentum, but nothing overall like 2015. It was so good Brilliant Stream rates WV's top beer stories for 2015.
---
Don't miss our pick for the Best WV Brewery and Best Beers of 2015 coming up tomorrow, Wednesday, Dec. 30. on BrilliantStream.com 
---
The year's biggest stories
Selecting the year's top craft beer stories, themes, and occurrences is not an easy task. West Virginia beer year 2015 gave us:
a big-boy increase in the number of major national, international, and regional craft breweries selling here;

some much-improved beer legislation;

canned beer from WV breweries;

five new WV brewery licenses;  

impressive new investment in several existing WV brewery facilities;

and much more.
Here are our picks for the years most genuinely significant West Virginia beer stories of 2105.
#1 – Growler sales supercharge market
It's a tough pick here, but we're going with expanded growler sales as the 2015's top beer story. Few of us in the craft beer community imagined the amount of positive impact the new legislation would engender. The breakthrough began when, last January, Charleston beer-enthusiast Rob Absten teamed with State Senator Chris Walters to promote a bill that would allow restaurants and retailers to sell growlers of beer to go. Through their efforts and the help of many others, the growler bill was incorporated into the governor's craft beer legislation, which was adopted and took effect last summer.
As of this month, 50 retailers, restaurants, and brewery taprooms have signed on to offer growlers. The legislation directly led to many thousands of dollars of new investment by the licensees. It greatly expanded the distribution and sales opportunities for truly local beers—ones that are only available on draft and previously could not be purchased to enjoy at home.
More importantly, the widespread availability of growlers created much greater visibility for craft beer. It served as a billboard to tell West Virginians that craft had truly arrived. With several chain pharmacy stores having recently installed impressive growler filling stations in the state's urban areas, West Virginia is poised to see a continued acceleration in growler sales and a continued growth in craft beer awareness among the general public.
#2 – More big-name craft breweries enter state
After years of waiting, the flood gates finally opened wide in 2015. Can you believe  Lagunitas, Oskar Blues, Anchor, Ommegang, Green Flash, and Devils Backbone are all here? The state also picked up much better distribution of great Belgian brews with the addition of the Duvel Moortgat and Artisanal lines. It's no longer difficult to go down to the local craft beer outlet and find something interesting. Not sure we ever thought we'd say this but, shopping for craft beer here is actually pretty fun now.
Our WV market seems to finally be getting some due respect. In 2015, a couple of expanding, high-quality breweries in our region chose to sell their beer in WV (e.g. Devils Backbone and Sunken City) instead of skipping over us, as had formerly been the norm (e.g. Bells, Victory, Highland, etc.). Country Boy Brewing (Lexington, KY) even decided to continue its commitment to the WV market and, instead, cut back distribution in Tennessee, while dealing with a product shortage until it gets its new production facility built. Let's hope this trend continues.
#3 – Brewery expansions get serious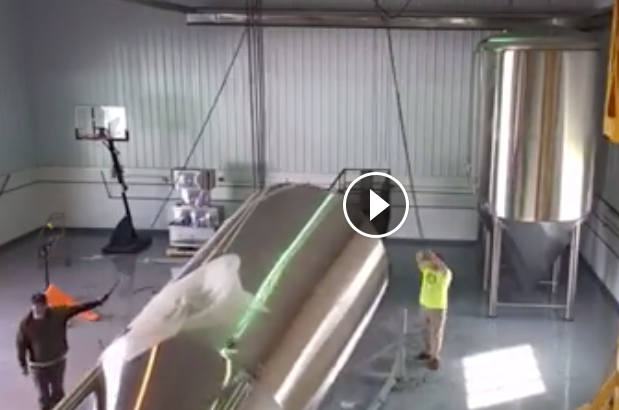 Right on the heels of a big 2014, a bunch of major investments in expanded brewery equipment and facilities occurred in 2015. This is a big story. It shows that investors and financiers have confidence in our brewers and our beer market.
Morgantown Brewing led the way by opening a sparkling new production brewery to complement it busy downtown brewpub. With the new brewery now producing its high-volume brands, the brewpub is freed to produce more seasonals, specialties, and one-offs. Their new canned six packs are gaining distribution across West Virginia and in the neighboring states of Pennsylvania and Maryland. It's a big step up.
Mountain State Brewing broke ground on its large brewery expansion project in Thomas (to be completed next spring). Wheeling Brewing began its on-site expansion. In addition to Morgantown Brewing, Big Timber and Greenbrier Valley also completed investments in canning lines at their breweries.
No sooner had Berkeley Springs Brewing got licensed than it expanded its operation by opening the adjoining Bath Water Brewpub. At the end of the summer, Bridge Brew Works opened its new tasting room and began sampling and growler sales.
Pretty much everywhere you looked, breweries were investing their money in expansions and hiring new employees. They were one of the few bright spots among West Virginia's manufacturing industries.
#4 – WV breweries start canning beer
Aluminum cans are fast becoming the preferred package for many craft beers. It's getting harder to obtain and keep shelf space in grocery and convenience stores if you don't have your beer in a can. Problem is, canning lines are expensive for small breweries and the alternative—using a mobile canning line service—cuts out most of your profit.
To their credit, four West Virginia breweries stepped up to the plate in 2015 to give us canned packages of their beer. First up was Greenbrier Valley Brewing, which opened the market with 12 oz. cans of Wild Trail Pale Ale and Mothman Black IPA. Next up came Mountain State Brewing with its entire line switching from bottles to 12 oz. cans.
Then, Big Timber Brewing installed its own canning line and offered its IPA and Porter in beautiful 16 oz. tall-boys. Not to be outdone, Morgantown Brewing kicked off its new production facility by packaging its best-selling Alpha Blonde Ale and Zack Morgan's IPA in 12 oz. cans.
#5 – Record number of new breweries open
A modern-era record number of new breweries opened in 2015. While West Virginia still ranks among the bottom states in its count of craft breweries, things are picking up.
After a very quiet winter and spring, last summer saw increased activity as Berkeley Springs Brewing, Stumptown Ales (Davis), then Dobra Zupas (Beckley) all got licensed and open. Then this fall, Screech Owl Brewing (Bruceton Mills) and Morgantown's production brewery joined the ranks. The count is now 16 licensed facilities (with Morgantown Brewing having two of them). That is surely close-to or at an all-time record number for breweries in the state.
Maybe just as importantly, no breweries closed this year. While we're talking about new beer businesses here, let's not forget that 2015 also saw the state's first pure craft-beer distributor get its license with West Virginia Craft Beer Distributors in Parkersburg.
#6 – Beer festivals proliferate
The craft beer revolution gaining strength tends to generate a whole lot of craft beer festivals. This happens everywhere, and West Virginia is no exception.
The state's existing craft beer festivals had prolific years. Huntington's Rails and Ales Festival gained stature this year and became the state's first craft beer festival worthy of a multi-state, regional ranking.
Wheeling's Mountaineer Brew Fest and Canaan Valley's Brew Skies festivals also had banner years. The granddaddy of WV beer festivals, Bramwell Oktoberfest, celebrated its 20th anniversary with a well-produced event that means there could easily be 20 more.
Aside from pure craft beer festivals, it seems like pretty much every event wants to add craft beer tasting to its agenda. Charleston, and surely other towns too, added new craft beer events that drew sizable crowds. With craft beer so hot, every charity thinks it can raise some extra money on the momentum of craft beer. When you see this happening, you know the tipping point has been breached.
Sometimes it seems the proliferation of beer festivals and beer events runs our small brewers ragged and demands too much of their valuable time. Sometimes festivals may clearly show the true state of beer preferences and of how much work is still ahead. One WV craft brewery rep spoke of her frustration this year at the relatively small number of folks lining up at their brewery stand, while the next tent down had long lines, all day, waiting to taste a sweet, root beer flavored malt beverage. 
It's all part of the process that has to occur for craft beer to grow. People's tastes evolve, and they need opportunities to sample and learn. Craft beer festivals provide those opportunities, and West Virginia now has plenty of them. 
Beyond the top 6
There were definitely other important craft beer accomplishments during 2015 that should at least make honorable mention. Here's a few more we can think of. A group of folks in Huntington pulled together the state's first statewide Craft Beer Week, which was quite successful. Tamarack, the state's premier outlet for artisan products made by West Virginia craftsmen, finally added craft beer to its store. Two members of the state's congressional delegation signed on as co-sponsors of the national craft beer bill.
What was your biggest beer story of the year?
If you have other thoughts on 2015's top stories in the West Virginia beer year, we'd love to hear them. What did we leave out? What was most significant to you? Post a comment below.