Bryan George, who is certainly among the state's elite winemakers, says he is moving on. George announced on a Youtube video posted last night that he is putting his Vu ja de Vineyards and winery up for sale and moving out-of-state.
The winery is located near Spencer, West Virginia, in the green rolling hills of Roane County.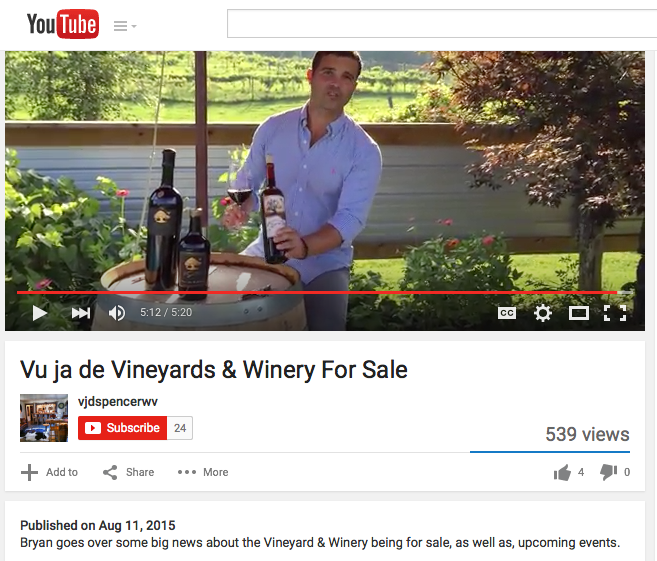 "I just got an awesome new job opportunity out-of-state," George explained, "and with our family and the new baby, it's an opportunity I cannot pass up."
George said he will move to the Whitefish, Montana area at the beginning of September to start a new job.
Just last week, Brilliant Stream learned that George was considering the move. Apparently his parents, who were living in California, have retired to the Whitefish, Montana area, and George had been looking into opportunities there.
"It's time right now to pass the torch along," he said.
Would you like to buy a winery?
Up for sale is the whole complex: a house, tasting room, functioning winery, vineyards, and adjacent farm property. The asking price was not posted.
"We'd really like to find that special buyer who could come in here and buy it—turn-key operation, ready to go," George said. He might also consider other selling options that could split up parts of the property and equipment.
Interested parties may contact George at (304) 377-1404.
If no buyer is found who wants to continue to operate the winery, it would make the second Roane County winery to close this year. Roane Vineyards owner announced earlier this year that he would not renew their winery license and had sold the winery equipment. (See this post in Brilliant Stream.) A couple of years ago, Roane Vineyards winery had been listed for sale, but apparantly no buyer was found.
Bottle sale and special wines auction
Over the next few weeks he will be bottling much of his remaining inventory and offering them for sale. Some of the wines include:
a new orange wine,
estate  elderberry,
port,
Outlaws, Rebels and Renegades
The winery will also be auctioning off their older, special wines that they have been cellaring. These include past vintages of Outlaws, Rebels and Renegades; Syrah; Mouth of the Wolf; Midnight Roots; and more.
All sales will be done at the winery.
George suggested that people follow the winery Facebook page to obtain more information on the wine sales and auction. His wife Ali Iaquinta George will stay at the property until the end of the year as she closes out her insurance business.
"We want to sincerely thank you for supporting us for all these years," George said in a message to his loyal customers.